Cloud Computing Servers
One of the core benefits of using CeraNet cloud servers are the cost savings, both in upfront capital expenditures and ongoing operations.  CeraNet provides the infrastructure, network, server hardware, software licenses, setup, custom configuration, and on-going maintenance – you just have to click a few buttons to get started.  Cloud computing solutions enable you to get started quickly, change resources as your requirements change, and pay only for what you use.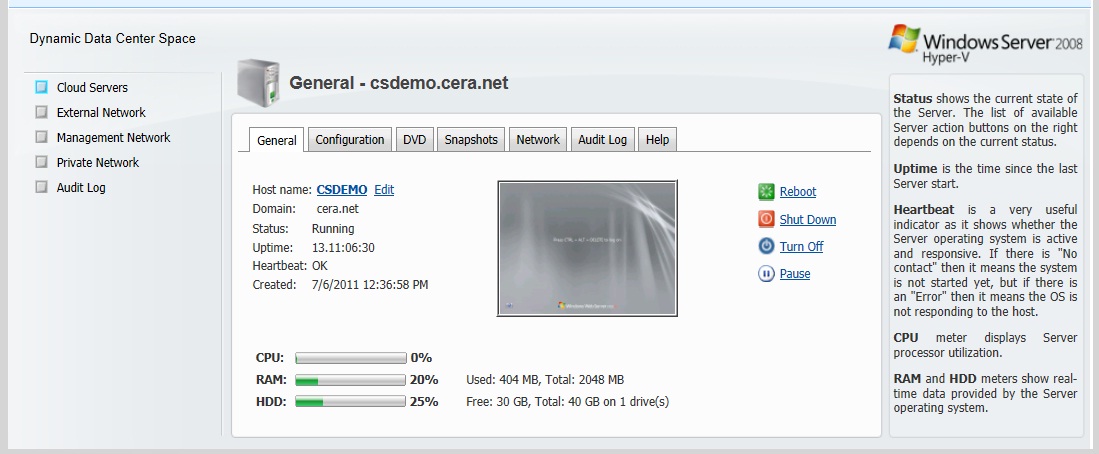 CeraNet uses simple 'unit' pricing allowing you to easily predict ongoing costs.  A unit is one processing core, 1GB of memory, or 50GB of storage.  Each unit costs $25 per month. To create a Cloud Server you need at least one of each type.  You can choose from a variety of operating systems and software to run your server. CeraNet licenses Microsoft software with our Service Providers Licensing Agreement which allows us to offer all of their software at low monthly rates vs higher one time licenses.
Each Cloud Server comes with 1000gb of transfer on a 100mbps port, /29 public IP addresses (5 useable IPs + Gateway), nightly system backup plus 3 user defined snapshots to capture system state, 24/7/365 live support (available by phone, email, and online ticketing system), 100% uptime SLA guarantee, plus everything else you would expect from a professional data center.